Chances are, you've heard of Jordan Younger, aka "The Balanced Blonde." Maybe it's because of her best-selling book, Breaking Vegan. Maybe it's because of her lifestyle blog that's literally read by thousands of people worldwide weekly. Maybe it's because of her adorable clothing line, or uber-popular social media channels...
...Or maybe it's because you saw her on virtually every morning news circuit two years ago, when she "came out" to her readers saying her intense focus on healthy, vegan living had spiraled her into an eating disorder. One that had zero to do with veganism but everything to do with the way she was using the label to mask her unnatural obsession with eating as "pure" as possible. And one that, subsequently, made her the target of intense hate and even death threats from people convinced that she was speaking ill of the vegan community.
In reality, nothing could have been farther from the truth - or the real Jordan behind the news headlines and blog posts. Only 26 years old (as of today! Happy Birthday, Jordan!), Jordan's transition from The Blonde Vegan (her former blog name) to The Balanced Blonde made her a wellness "It Girl" virtually overnight. She's managed to navigate both the highest highs and lowest lows of being in the public eye with grace, humor, and integrity, all while unapologetically being, well, herself. She is bubbly like champagne, kind to the core, and just as enthusiastic about championing others' success as she is when it comes to pursuing her own. She takes her work seriously but takes reactions in stride, and treats each person she meets like a new friend in the making. In a scene that's becoming almost overly-saturated with a wellness-elite vibe, Jordan is a breath of fresh air and true authenticity.
After years of "knowing" each other from afar and running in so many of the same circles, Jordan and I finally got to met at the WANT Moving Forward Fearlessly event back in April. She crushed it (check out the recap here). And she's become a cherished friend ever since.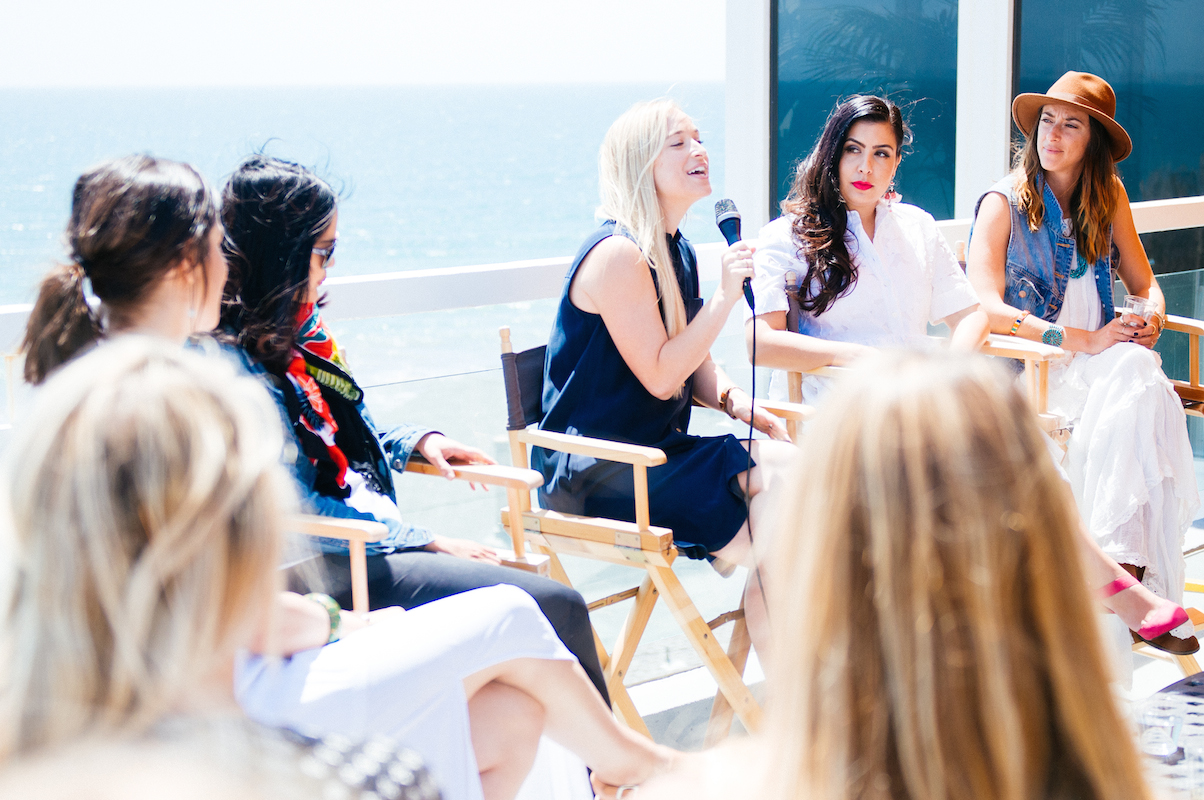 What I love about Jordan is that she doesn't apologize for being who she is, and she doesn't tailor herself to fit other people's liking. We share countless similarities - from our history with Orthorexia to our blogging backgrounds to our Libra birthdays - and I know I can always speak candidly to her about both the exciting moments and, well, b.s. that comes along with starting up your own purpose project from scratch.
The thing about Jordan is that while she's gotten a lot of outward success in a relatively short amount of time, what impresses me the most about her is how completely transparent she is about her journey getting there, how she was feeling at the time, and how she currently navigates the extremes that come with both being a highly creative and driven person. It's a lot easier to take risks and pivot when you're lesser known or just starting out at whatever you're doing, but once you've got all eyeballs all on you, it can be tough not only to take those risks in the fist place, but also manage the reactions of others you get in response to those risks. She's able to laugh at herself, is incredible self-aware, and takes it all in stride without throwing out the sensitive parts of her that have made her so magnetic to so many people.
In this episode we talk about adrenaline addiction, the fear of success instead of fear of failure, finding the work style the works for you, how Jordan has learned to manage both the highs and lows of her business while staying true to herself, being a leader when you still feel like you're learning, and forging your own journey even when it's tempting to compare yourself to other people in your age range or career field. We also talk about some of her not-so-traditional health and spiritual adventures, the latter of which starts off with us laughing about it, but ends with a lesson all of us should remember about believing what we can't see.
I can't think of a more perfect, pragmatically positive person to kick off Season Two of the WANTcast.
WANT Jordan:
Show Notes:
The Balanced Blonde
Facebook
Instagram
Twitter
Snapchat
Breaking Vegan
E-book preorder
Jordan at WANT's event in April
That time she was on Chelsea Handler's Snapchat
Miranda Alcott
Orthorexia, Explained
WANT to support the WANTcast? Click over to Amazon via this link, then shop as usual. I will receive a small-but-meaningful kickback, which means we can invest in things like sound editing, new equipment, and more. No extra charge to you. Easy as that!
Like this episode? Shoot me a comment below, leave a review on iTunes, share it on Facebook, tweet it out on Twitter, or post it on Instagram. Be sure to use the hashtags #WANTcast, #womenagainstnegativetalk, and/or #WANTyourself!